Hearts Ship in 2-4 Weeks
- The Healthcare Hero Heart -

Our neon hearts are hand assembled in our shop in Mississauga.   $5 from every heart purchase will be donated to the Michael Garron Hospital Foundation.
This beautifully crafted LED neon heart is dedicated to our healthcare heroes who have worked tirelessly throughout the pandemic. We've designed the heart so that you can give it to a healthcare hero or place it in your front window to spread the love to anyone passing by on your street.  It comes with a magnet on the bottom and a steel plate that provides a sturdy base to place on a window sill.  The frame is routered out of 3/4" laminated Canadian hardwood and the entire unit is assembled in Canada.  Each heart is unique and there may be imperfections in the hardwood.

Purchase one today and show some love for the heroes in our community!  
Only drawing 8 watts of power 
($0.77 a month running @ 24 hours/day) allows for constant-on use.
Dimensions are 12" tall X 10" wide.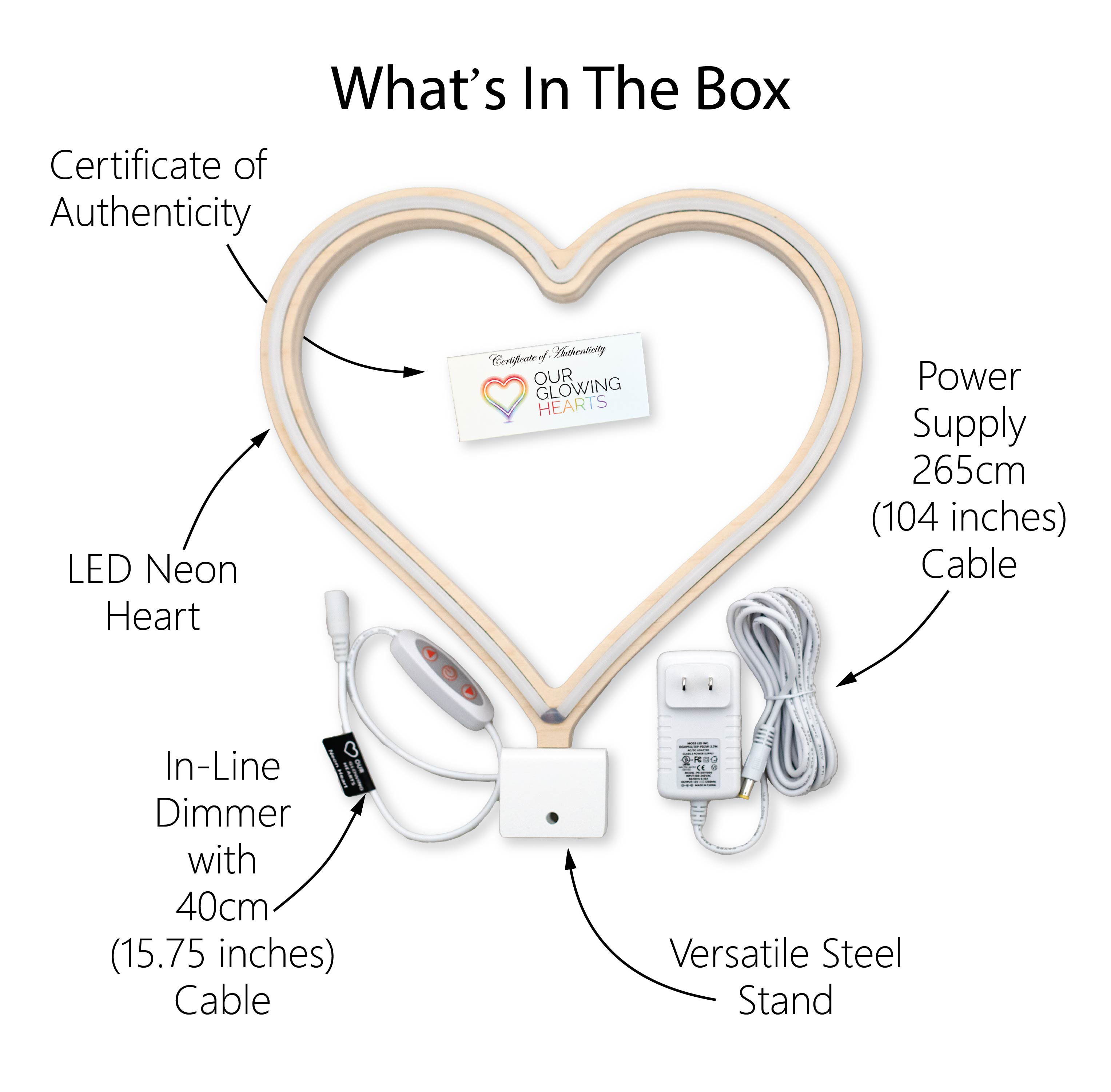 What is in the Box?
1 X LED Neon Heart Mounted in Laminated Wood Frame
1 X MossLED Certificate of Authenticity
1 X Steel Base Powder Coated White
1 X Power Supply (Choose Dimmable or Non-Dimmable)
Technical Specifications
Neon Heart Power Specification = 12VDC / 8.4 Watts
Cool White Heart is 5500k White Colour Temperature with a CRI over 98.
DOWNLOADS
 User Manual
 Touch Dimmer User Manual
In the News
Showing the love. @mossled creates glowing neon hearts that are being displayed on windowsills in Toronto homes as a tribute to our front-line heroes. @cbchh #CBCNN pic.twitter.com/QZXgwCbkY7

— CBC Morning Live (@CBCMorningLive) December 4, 2020
Awesome idea, quality product, great customer service!
Saw a lot of these in Leslieville so decided to bring the idea to Roncesvalles! After some confusion with the Magenta heart, the team at OGH were very quick to help me out. I now own a warm white and also an orange heart. The warm white is in the window, the orange on my desk. Definitely get the dimmer when you get your heart. Makes it much easier to turn it on and off and also if you are going to put it somewhere, such as a desk, where it's facing people up close, you will want the option to dim as these are very bright at their normal level.
Love my Hero Heart!
So pleased with my orange heart. Just lovely! It joins so many other colourful Hero Hearts throughout the Beaches here in east end Toronto. Beautifully designed and hand crafted. The staff at Our Glowing Hearts were wonderful to work with when I had to make changes to my order.
Our Glowing Heart
Our new orange glowing heart is beautiful. It lights up our window and reminds us how very fortunate we are to have so many dedicated frontline workers to help us through Covid.
Public Gratitude
I hope the health care workers who drive by the heart in our window feel our gratitude. The heart is a powerful symbol and the product is a beautiful display.
Feel Good Glowing Hearts
I also got a heart for my parents, and they love it.
My neighborhood is full of them at Broadview and Danforth.
We feel warm and fuzzy every time we see it in the window.
Thank you!