- The MINI Hearts -

This beautifully crafted LED neon heart is modelled after the iconic Our Glowing Hearts logo. A gorgeous rainbow of colour with red at the top, followed by orange, yellow, green, cyan, blue and purple at the bottom. Each Signature Rainbow heart comes with a dimmer control unit that allows you to adjust the brightness as well as change the heart from its normal look to an animated waterfall of colour. Flowing from the top center a cascade of colours slowly descends down each side of the heart. Perfectly timed to not be too fast nor to slow; it is as mesmerizing as it is beautiful.

We proudly design, engineer and hand assemble all of our hearts in our shop in Mississauga, Canada. 

Our Signature Rainbow Heart is dedicated to the 2SLGBTQI+ community. Our Glowing Hearts is a proud queer-owned business. We believe in inclusivity in our community, that visibility matters and that love, respect and finding common ground is key for all humanity. Whether you are a part of the community, an ally, or just simply love the look of our rainbow heart we would encourage you to place it in your window for all to see. 
A
 portion of the proceeds from every OGH Signature Rainbow Heart is being donated to the
 Rainbow Railroad Organization. Rainbow Railroad is a global not-for-profit organization that helps LGTBQI+ people facing persecution based on their sexual orientation, gender identity and sex characteristics. In a time when there are more displaced people than ever before, LGBTQI+ people are uniquely vulnerable due to systemic, state-enabled homophobia and transphobia.
Purchase one today and show some love for your community!  
Only drawing 10 watts of power 
($0.77 a month running @ 24 hours/day) it allows for constant-on use.
Dimensions are 7" tall X 7" wide.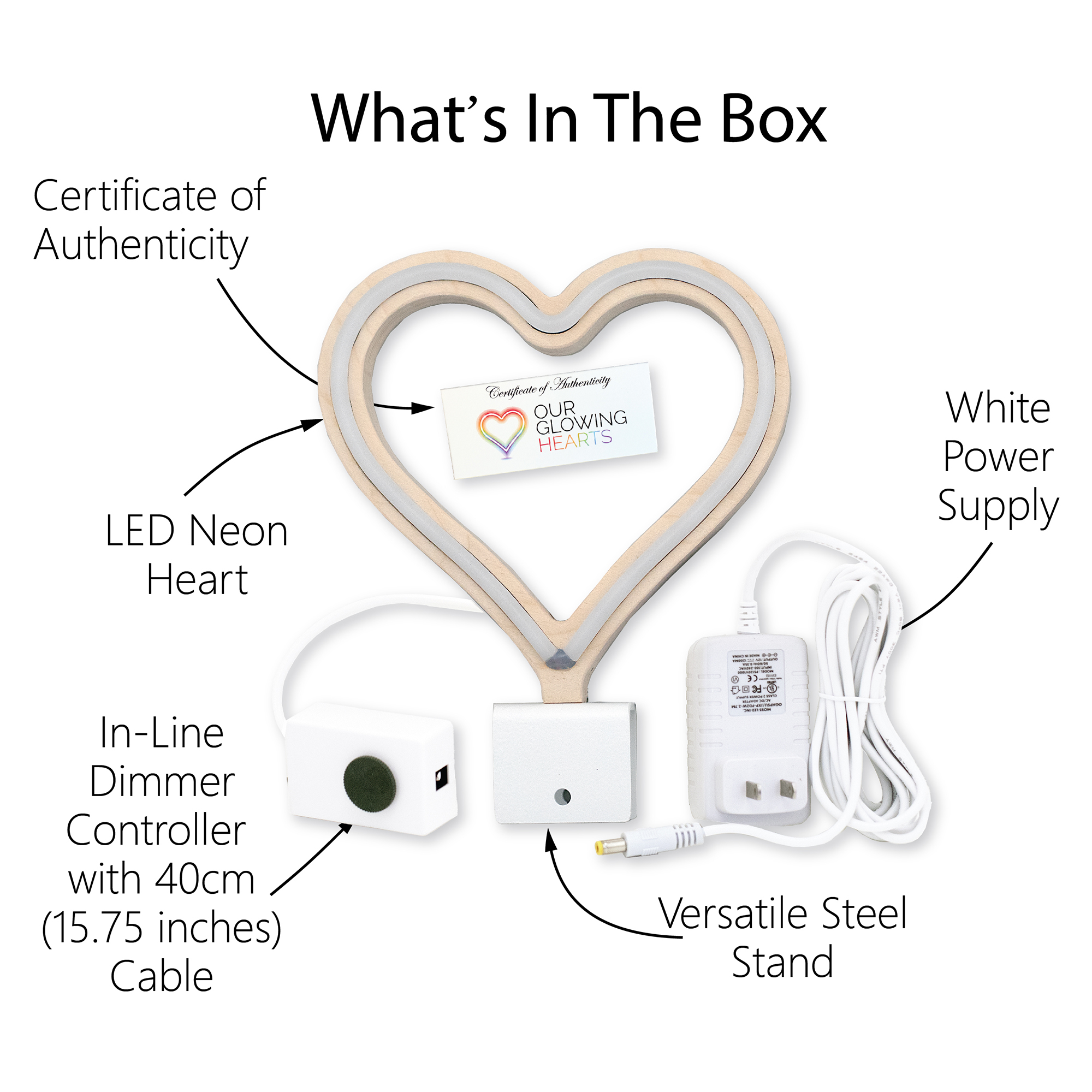 What is in the Box?
1 X LED Neon Heart Mounted in Laminated Wood Frame
1 X MossLED Certificate of Authenticity
1 X Steel Base Powder Coated White
1 X Power Supply

Technical Specifications
Neon Heart Power Specification = 12VDC / 10 Watts
RGB Colour Changing LED Neon Heart

DOWNLOADS
 Heart User Manual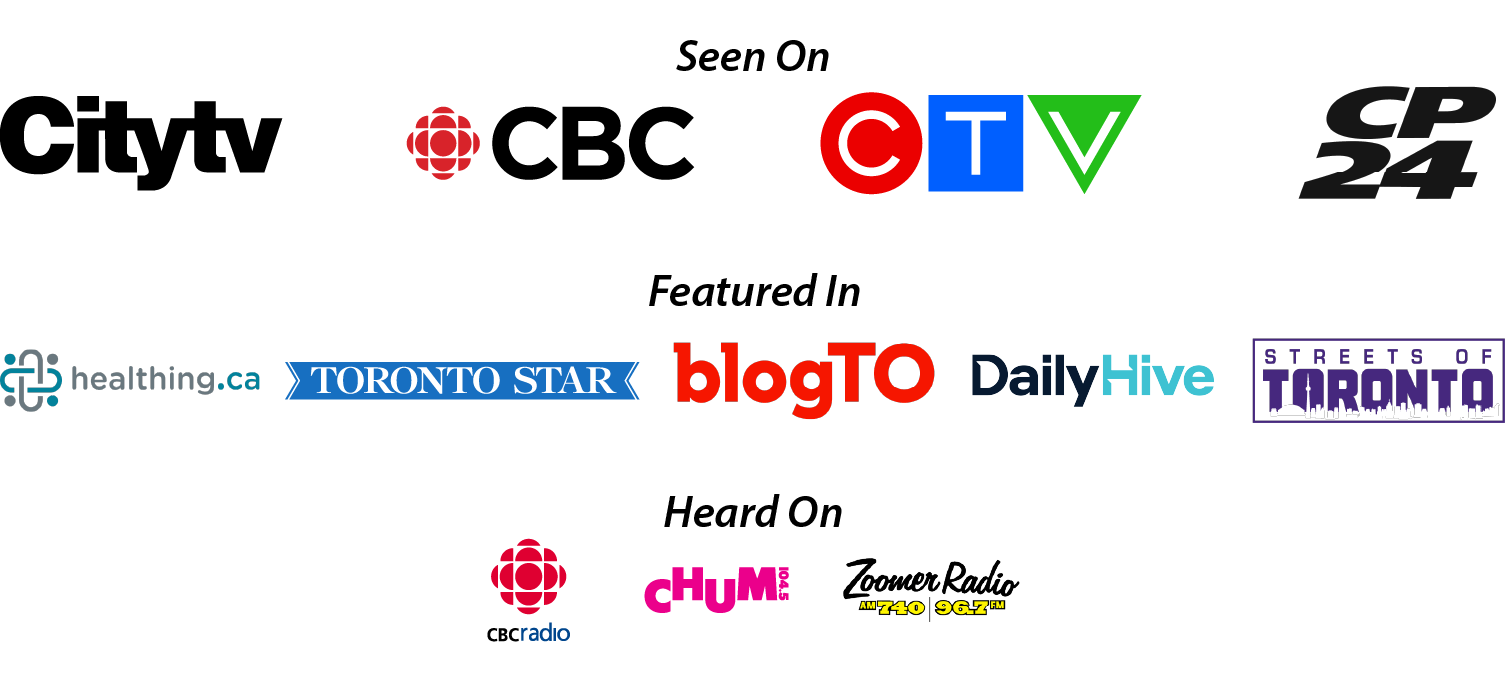 Beautiful Gift
I own one mini Glowing Heart and told my daughter about it and the wonderful way the company supports itself as well as a variety of causes. She was intrigued. So I have gotten her one of your beautiful rainbow hearts for Christmas. Shhhh. She doesn't know. I can't wait to see her face when she opens this gift.
Mixed Feelings
The heart is cute but doesn't stand out in a window.Needs more brightness or order the larger one.
Just awesome
What a GREAT Canadian product. Show your support for any cause by also support a great cause. Well made, well packaged, fast delivery and best of all… proudly made by amazing people. 🇨🇦 Would recommend to anyone. 5-star.
Keep the love coming
I have purchased from Our Glowing Hearts preciously and my heart has been proudly glowing from my front window 24/7 since the beginning of Covid. My recent purchase of the Mini Rainbow heart was a gift and is proudly showing the love and inclusiveness from my daughters front window. Since it fits inside my larger heart, I will be ordering another. Thankyou for all you do to prove love is the answer.
Wonderful rainbow heart
This heart is absolutely beautiful in both static and dynamic modes. It was easy to set up and is a joy to watch.