Hearts Ship in 3-4 Weeks
- The Light Up Live Heart -

Our neon hearts are hand assembled in our shop in Mississauga.  This beautifully crafted LED neon heart is dedicated to out of work live entertainment personnel who have been unable to practice their craft since the beginning of the pandemic. We've designed the heart so that you can give it to a live entertainment worker or place it in your front window to spread the love & support to anyone passing by on your street.
Why Red?  On September 22nd, 2020 dozens of performing arts venues, workplaces, and individual homes were illuminated in red light to bring awareness to the dire situation facing the performing arts industries and supporting businesses.  Read more about the Light Up Live event here.  

 It comes with a magnet on the bottom and a steel plate that provides a sturdy base to place on a window sill.  The frame is routered out of 3/4" laminated Canadian hardwood and the entire unit is assembled in Canada.  Each heart is unique and there may be imperfections in the hardwood.
$5 from every red heart goes to support the AFC.    Who is the AFC?  The AFC is a national charity with a mission to help Canadian entertainment professionals maintain their health, dignity, and ability to work. They provide compassionate support to everyone working in theatre, film/TV, dance, music, live performance, and more. Since the beginning of the COVID-19 pandemic, hundreds of industry members have turned to The AFC for help to keep a roof over their heads and food on the table. During this challenging time, The AFC has responded to the need in the community with $1.4 million (and counting) in emergency financial aid. Learn about The AFC's programs and services at afchelps.ca.
Purchase one today and show some love for the heroes in our community!  
Only drawing 8 watts of power 
($0.77 a month running @ 24 hours/day) allows for constant-on use.
Dimensions are 12" tall X 10" wide.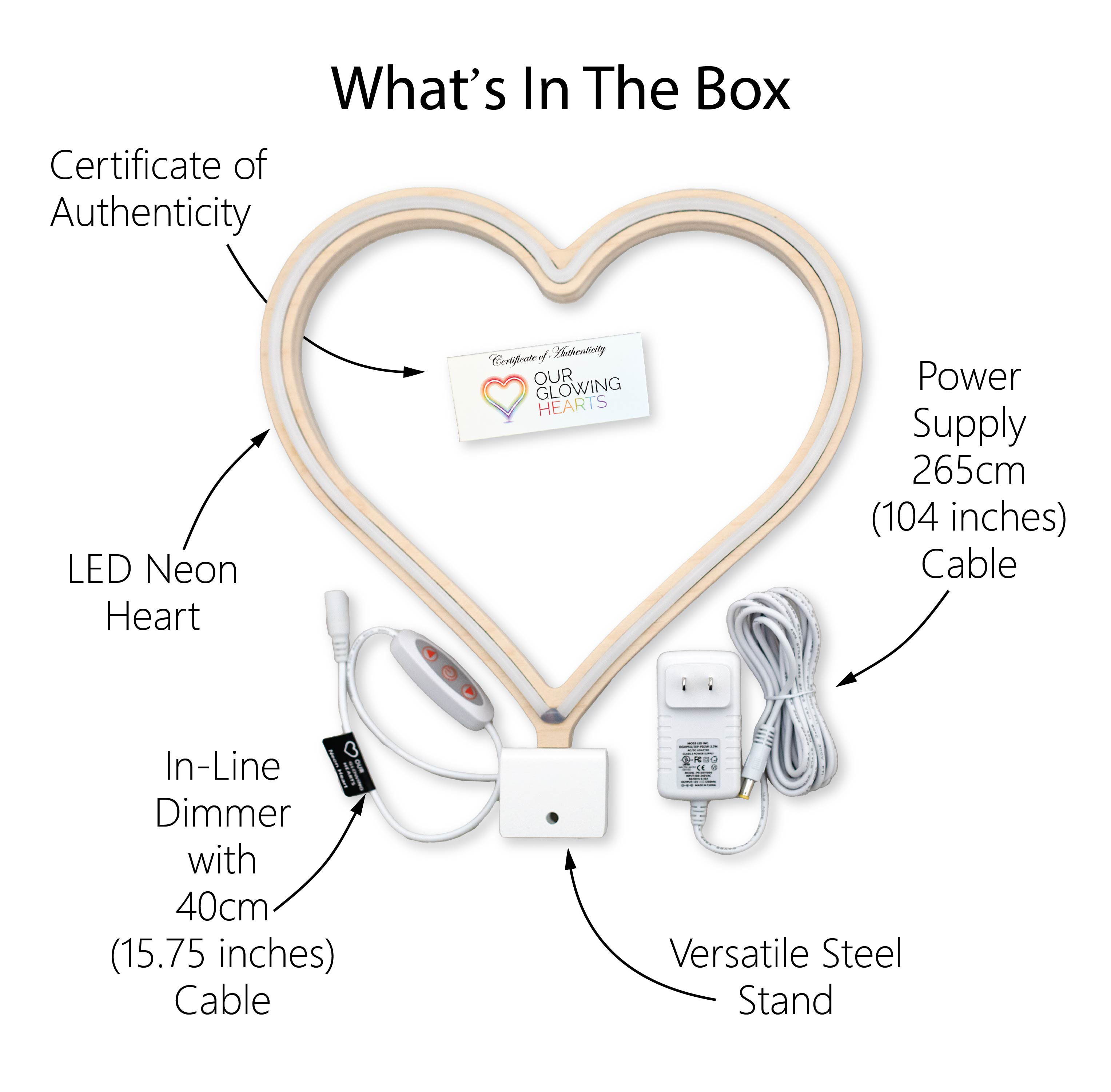 Includes the following:
1 X LED Neon Heart Mounted in Laminated Wood Frame
1 X MossLED Certificate of Authenticity
1 X Steel Base Powder Coated White
1 X Power Supply (Choose Dimmable or Non-Dimmable)


Technical Specifications
Neon Heart Power Specification = 12VDC / 8.4 Watts


DOWNLOADS
 User Manual
 Touch Dimmer User Manual
In the News
Showing the love. @mossled creates glowing neon hearts that are being displayed on windowsills in Toronto homes as a tribute to our front-line heroes. @cbchh #CBCNN pic.twitter.com/QZXgwCbkY7

— CBC Morning Live (@CBCMorningLive) December 4, 2020 
Amazing
Love the heart. Got lots of compliments from my neighbours.
Very Nice Touch
Don't know how the stand is supposed to work. There are holes but no screws. Does the heart just sit on top of the magnet? Seems a bit rickety.
Share the Love
People who walk by our window almost always smile when they see the heart. Heart warming! If people ask what it represents I ask them what do they think that it represents? Answers vary but the common link is gratitude about something. Such a high quality material and crafted piece!
Love it!
It's beautiful and bright and fun to have in the window. And the cats adore it too! :-D
PS. The dimmer is totally worth it. It needs to be at full brightness in the day to be seen but that's pretty bright at night, so it's nice to be able to adjust the light level.
Red Glowing Heart
It is so well made. We love knowing that by displaying this in our window we are showing our love support and gratitude for those that have given so much during this Pandemic.