- The One-People Heart -
Our neon hearts are hand assembled in our shop in Mississauga.  
This beautifully crafted LED neon heart is dedicated to our healthcare heroes who have worked tirelessly throughout the pandemic. We've designed the heart so that you can give it to a healthcare hero or place it in your front window to spread the love to anyone passing by on your street.  Every heart comes with a baseplate and a screw for securely attaching it to the baseplate.  The baseplate provides a sturdy base to place on a window sill. The frame is routered out of 3/4" laminated hardwood, hand sanded, and assembled in Canada.  Each heart is unique and variations should be expected and treasured as a unique element.

Purchase one today and show some love for the heroes in our community!  
Only drawing 10 watts of power 
($0.77 a month running @ 24 hours/day) allows for constant-on use.
Dimensions are 12" tall X 10" wide. 

We are proudly donating a portion of every magenta heart sale to the Artists Against Racism charity.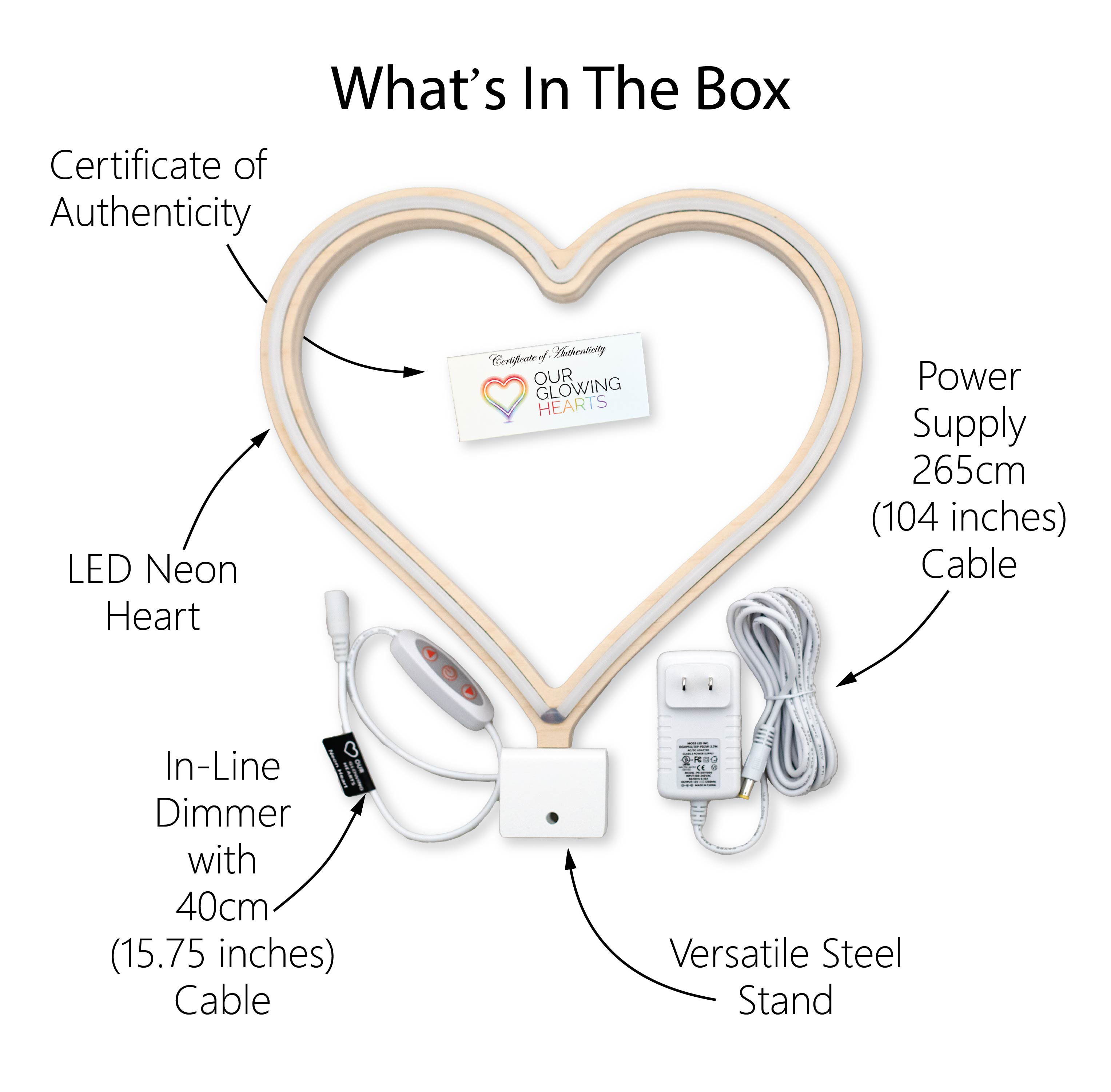 What is in the Box?
1 X LED Neon Heart Mounted in Laminated Wood Frame
1 X MossLED Certificate of Authenticity
1 X Steel Base Powder Coated White
Technical Specifications
Neon Heart Power Specification = 12VDC / 10 Watts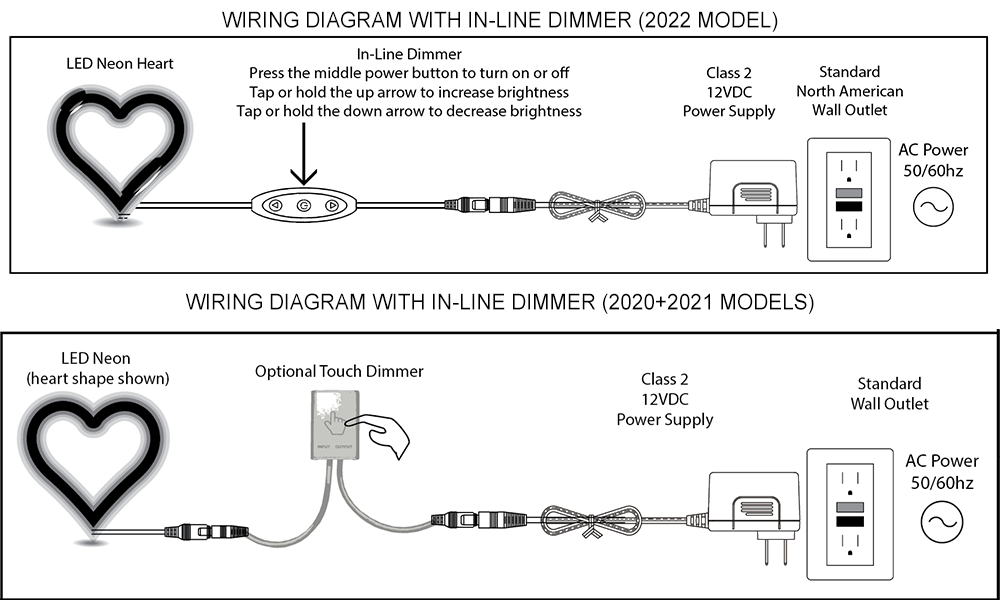 DOWNLOADS
 User Manual (2022 version with In-Line Dimmer)
 User Manual (2020 & 2021 versions with Touch Dimmer / No Dimmer)
 Touch Dimmer User Manual 
In the News
Showing the love. @mossled creates glowing neon hearts that are being displayed on windowsills in Toronto homes as a tribute to our front-line heroes. @cbchh #CBCNN pic.twitter.com/QZXgwCbkY7

— CBC Morning Live (@CBCMorningLive) December 4, 2020


Perfect Heart
Thank You for my beautiful Hearts….l bought 3 Hearts ….two for my house ( Scarborough, Ontario ) and l sent one to Boston, Ma USA to my friend David…..he loves his glowing Heart as l Love mine ……they really do brighten the outside world ……and also neighbours asked me and l gave them the address to buy the same Heart…..Friends telling Friends that is what the ♥️ is all about
Glowing Goodness
Very happy with our purchase. Well made and designed, nicely finished and easy to set up. Saw several other hearts in our area and wanted one too!!
Keep cheering on all the frontline workers who must be weary. Go Glow!!!
Spreading love, joy and appreciation.
After I moved into mid-town Toronto, I was intrigued by the numerous glowing hearts in windows. Once I knew the story behind the products, I ordered one. Good quality, locally manufactured and bright illumination. Since my window ledge wasn't wide enough to accommodate the enclosed stand, the lightweight design made it possible to place the glowing heart on the narrow window sill and used scotch tape to secure the top to the window. Highly recommended. Join me in spreading love, joy and appreciation in our communities.
Delighted!
I am so pleased I decided to purchase a Glowing Heart. The simplicity of the design, the meaning behind the design and the product itself have exceeded my expectations. I have a mother in long term care who is over 100 . The dedication the staff have shown has been amazing, and they represent just a very tiny percentage of all those who stepped forward to man the front lines in these trying times. So many individuals who have given so much. Somehow, I feel very good about showing my support in this wonderful way for now and in the future by displaying your beautiful Glowing Heart. Every time I look at it, I am reminded again of how fortunate we are and how passionate I feel about those who have been there for us throughout. It represents love, admiration, respect and faith that we can come through this. Thank you! Your Glowing Heart has made my heart glow too. I love it!
A little love in L.A.
This heart now resides in Los Angeles. The owner was thrilled to get it, and loved the "uniquely Canadian" sentiment 💜🇨🇦
This is the 3rd heart I've given as a gift and they have all been so well received... and now I'm gifting two more!
It's a joy to put a little more "love" out there!